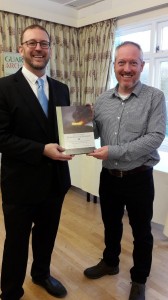 The Dumfriesshire and Galloway Natural History and Antiquarian Society hosted a very successful book launch of The Lost Dark Age Kingdom of Rheged: The Discovery of a Royal Stronghold at Trusty's Hill, Galloway in Gatehouse of Fleet at the weekend. Over 100 people attended the event at the Murray Arms Hotel. All of the 40 books supplied by the publisher, Oxbow Books, were sold by the Society, with no-one left wanting, which is a great result. It was indeed very nice to see so many of the volunteers who took part in the excavation there, as well as many others from Gatehouse of Fleet and the Antiquarian Society.
Back in 2012 when we launched the Galloway Picts Project, our aim was to recover evidence for the archaeological context of the Pictish Carvings at Trusty's Hill.The book sets out in detail all the results of the 2012 excavation along with the subsequent post-excavation analyses and the accumulation of evidence that we can draw from these analyses. Far from validating the existence of Picts in this southerly region of Scotland, the archaeological context instead suggests the carvings relate to a royal stronghold and place of inauguration of the Britons of Galloway around AD 600. Our book examines the regional and national context of contemporary sites and through drawing together all the archaeological evidence from Galloway during this period in comparison with neighbouring regions, we make the case that this region was the heart of the lost Dark Age kingdom of Rheged, a kingdom that was in the late sixth century pre-eminent amongst the kingdoms of southern Scotland and northern England.
The new archaeological evidence from Trusty's Hill enhances our perceptions of power, politics, economy and culture at a time when Scotland was re-emerging from the Dark Ages, a time when the foundations for the kingdoms of Scotland, England and Wales were being laid.