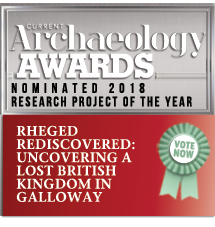 Almost exactly a year since our book was published by Oxbow, our work has been nominated in the Research Project of the Year category in the 2018 Current Archaeology Awards.
Rheged rediscovered: uncovering a lost British kingdom in Galloway was published earlier this year in Current Archaeology 327 and summarises the results of our work at Trusty's Hill, which revealed a royal stronghold that lay at the heart of a lost Dark Age kingdom that was once pre-eminent in northern Britain.
The full results of this work – The Lost Dark Age Kingdom of Rheged: The Discovery of a Royal Stronghold at Trusty's Hill, Galloway – is still available as a hardback book, though I hear that there's not many copies left!
However, it is also now available as an ebook, either as an Epub (e.g. for kindle readers etc) or PDF (for any device).